Great Scotts Eatery is an American burger restaurant whose motif pays homage to the beloved American diners of the 1940s and 1950s.
Vintage decor includes jukeboxes, chrome accents, red and white vinyl seats, custom artwork and period memorabilia. Patrons are served by a waitstaff dressed '50s-style, and the menu offers an irresistible lineup of diner breakfasts, juicy burgers, classic sandwiches and dinner entrees, as well as soda fountain shakes, malts, sundaes and homemade pies.
Stop by and take a trip down memory lane with Betty Boop or Elvis Presley. There are even those who claim they've caught sight of Marilyn Monroe and James Dean sitting at a corner table sharing a banana split.
Join Our List! Take Our Survey!
---
Click below to browse one of our two locations:
Denver – Click Here                        Broomfield –Click Here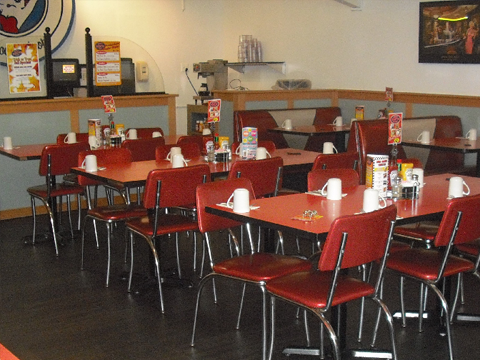 Location:
Great Scotts – Denver – Click Here
1295 Cortez St.
Denver, Colorado
80221
Open: 24 Hours/7 Days a Week
Location:
Great Scotts – Broomfield – Click Here
7510 US Highway 287
Broomfield, Colorado
80020
Open: 5AM – 10PM/7 Days a Week
..